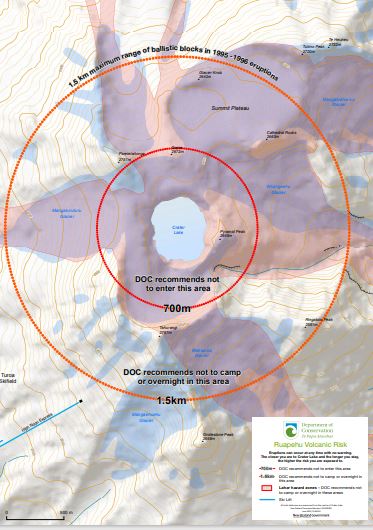 We no longer offer this hike. The world we live in changes. We change with it.
The Department of Conservation now recommends that people do not enter the area within 700m of the Crater Lake of Mt Ruapehu while Ruapehu is at Volcanic Alert Level 1, which it has consistently been at since 1995. Dome Summit, our historic view point of the Crater Lake lies within this radius. We can't see the Crater Lake from any other part of that Dome Ridge.
You can read about this at https://www.facebook.com/DOCTongariro/posts/2651560131774261
The story of the sacred values of Tongariro National Park's summits is increasingly being acknowledged. Out of respect to the Tangata Whenua (people of the land), who prefer that this area is not visited, we will no longer be guiding up into this area that has such high cultural values. This area above the ski field boundaries was the genesis of the Tongariro National Park, starting the journey to create the first National Park in the world to have originated from a gesture from the indigenous people of the country to a Colonial government.